It is so hard to get yourself to work when you just don't feel like doing it. From handling a deadline to working out or just cleaning your house, when you are feeling lazy it can be a real chore to get yourself started. Of course, once you get going you will probably find yourself breezing through it, which makes procrastination so pointless. But that doesn't make the initial spark of activity any easier.
For the many people who find this to be the case, there is some help. No, it isn't a swift boot in the behind, or some stupid platitude about picking yourself up by the belt loops and getting yourself in gear.
Instead, you can use these much more effective motivation tools that will help you get yourself moving and doing whatever is currently on the agenda.
This is a fun little Android app from the maker of House MD Quotes and WiFi Scanner. The idea is simple: having a few motivational, humorous images will go a long way to push you into doing what needs to be done. They have both common and rare motivationals with cats, weird pictures, laugh out loud observations and more. You can like/dislike select, add some to your favorites or share them with others on social networking sites synced with the app. He has so far started with more than 1,350 images, so you should be OK for awhile, until an update comes. It's not practical, but its fun. Sometimes that is all you need to put your mind in the right place.
If you haven't found this site before, you will be in love by the time you finish your first browse of it. This is a place where you can make, share and listen to playlists with full songs. But this is more than just "good tunes for a good mood". If you do a search for 'motivation" or "motivational", you will end up with hundreds of playlists. Some of these are up beat or inspiring songs, or even spoken word speeches, lectures and quotes. If you want something to help you while you work out, you can search for that. Or music to help you study or work. They have an iPhone/iPod app, so you can take them with you. Or just play them in your browser while you go about your business. It is my personal favorite music site, and one I use every day. Quick Tip: It can be annoying to search the site when you are signed in. Make sure you have selected the 'Search All Mixes' link for a broad search, or go by keyword to search your liked playlists. To make it really easy, sign out and search, then sign in if you want to like a playlist.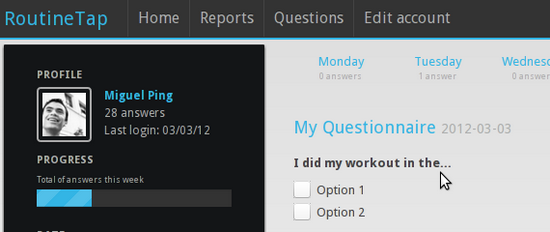 This is an extremely helpful app that you will be sure to love. It works by letting you set up questions about your own patterns and behavior. For example, how much time you spend working, exercising, sleeping or anything else. You save them on your profile, then answer it frequently. It recommends once a day, which will give you the most accurate results. It only takes a few minutes, so this shouldn't inconvenience you. From there, it will create a graph of information so you can see all of your data in one place. It's free to use and very helpful. It is surpris
ing to see how much you really do (or don't do).
The idea is a simple one based off of a motivation technique used by Jerry Seinfeld. It works by marking off the days you keep up with a single goal. The calender turns red on all the days you do what you are supposed to. The point is to not break the chain that results. It is a great motivator, effective in that it both gives a visual representation of your success, and keeps you focused on a single goal.
One of the biggest mistakes people make is forcing themselves to use endless to-do lists that leave them feeling horribly overwhelmed. This program works by focusing on daily goals only, and so keeping it all in scale. Instead of putting a goal far off, you get to see your success every day. There is nothing more motivating than success. It even has a reminder system that is really great.
Conclusion
Getting up and moving can take a lot more effort than you might have to spare. Laziness can gather and leave you feeling like your mind and body have been dipped in concrete and left to dry. But with the tools above, you can break through the apathy and get yourself going. So make sure to try them out, and see how easy it is.
Jess is a productivity geek and business writer for Dobovo, the free online tool for business travelers!